Discover more from The Creatives Note
Curating, documenting and telling the stories of creativity in Africa
Losing Daylight is set to host a Pop-up Exhibition of Nigeria's film history on Independence Day
Losing Daylight is a film museum, addressing Nollywood's placelessness. It says it is on a mission to curate, preserve, restore, and showcase treasures of Nigeria's film history.
The global film industry we have now is not what we have always had. Nowadays, at the tap of a button, you can stream any movie you want in as much as the streaming service you are using has the movie on its platform. The film and entertainment industry is one industry that has been greatly impacted by technology. Technology has changed a lot of things in the industry. For example, how movies are produced and distributed.
Before the advent of streaming platforms like Netflix, Hulu, HBO, or Amazon Prime, we had to buy or rent VHS tapes, CDs, and DVDs to watch movies in our houses. One interesting fact is that the Netflix we know today started out as a DVD rental and sales site. In those days, if you couldn't afford to buy DVDs or CDs, you could just rent them.
Subscribe to The Creatives Note to read stories of African creatives and things relating to creativity [art, design and film] in Africa
If you were old enough in the 90s and 2000s, you will be familiar with the concept of renting a CD/DVD. To watch a movie after renting or buying, you need a DVD player that you will connect to your TV to enable you to see the movie. These were interesting times but that's not our main focus here.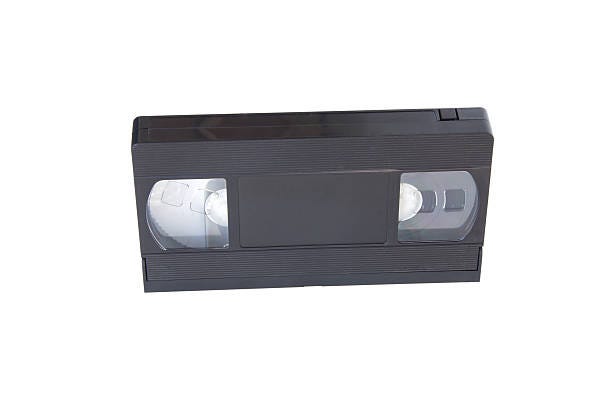 An Era of CDs and DVDs in Nollywood
Most of the Pawpaw and Nollywood memes we see and use today were produced in the era of CDs and DVDs. While a number of these movies we watched and enjoyed then have managed to be digitised and made available online, there's still the nostalgic feeling you get when you see a physical DVD/CD copy of these movies.
One other interesting thing you will remember from that era is the style of design for their CD covers and movie posters. They were so chaotic but consistent. Seeing these probably brings back memories.
In the last few years, we have moved away from using CDs and DVDs thereby having no need for them. Because of this, we have lost a reasonable chunk of materials from that era, and in a few years' time, we will have lost a significant amount of things from this era.
---
Read Also: Lagos Comic Con, the biggest geek event in Africa, gears up for its 11th edition happening this September
---
Restoring and showcasing Nigeria's film history
In an attempt to preserve things from that era, Losing Daylight says it "is on a mission to curate, preserve, restore, and showcase treasures of Nigeria's film history."
"The film industry of Nigeria, Nollywood, is currently the second largest film industry on earth – in terms of output, and is also the second largest employer in Nigeria, after agriculture, making up roughly 5% of the country's GDP," wrote Taiwo Adeyemi, who is spearheading the initiative. "These statistics sound glossy. But statistics without context is just simply a vanity metric. It means nothing."
He adds: "If you're looking for a repository of film history anywhere in Nigeria today, you will not find one. There is nowhere to go to discover and learn the 100+ years of history of film in Nigeria, dating back to Colonial Nigeria from the mid-nineteenth century."
After this realisation, he decided to do something about it. He wrote: "This year, I started the painstaking process of collecting an extensive range of memorabilia that authentically represents these different eras of film in Nigeria. This journey is merely at its inception, and the ultimate goal is to utilize tangible history as a means to combat the misinformation that has long plagued this industry."
According to him, Losing Daylight is for people who don't know enough about where this industry came from. It is also for people who know, but have never seen or touched any tangible evidence.
It is a meticulous curation, restoration, preservation, and exhibition of all the history we can lay our hands on; analogue and digital; film posters, costumes, scripts, footage, equipment, props, publications, and other relics; from the first time a film was made and played in this country, till present-day. And then making it accessible to everyone as an art form, entertainment, education, cultural heritage, and social documentation.
It is a film museum, addressing Nollywood's placelessness.
---
Read Also: How Naija Comm, a global community of creatives and social enterprise, is empowering Nigerian creatives and professionals in the creative industry across the world
---
Losing Daylight: A film industry slag term
On the origin and meaning of the name 'Losing Daylight', Taiwo wrote: "I was visiting my oldest client Nse Ikpe-Etim on a film set, and I heard one of the crew members yell continuously, "We are losing daylight o". I wasn't a filmmaker, but the urgency in her voice made it self-explanatory. It was an exterior day scene, setup was taking longer than expected, and they couldn't risk natural light going out before they got what they wanted."
"Losing daylight for them would mean expending more artificial lighting resources to convert night into day scenes - which implies additional costs and a delay in the production timeline. However, despite the challenge, solutions exist," he adds.
An Independence Pop-up Exhibition of Nigeria's Film History
The first step of Losing Daylight in showcasing Nigeria's film history is an interactive and immersive pop-up exhibition of Nigeria's film history from the early days of Nollywood from October 1-2, 2023 at Glover Court, Ikoyi, Lagos.
In an announcement, it wrote: "We're so excited to bring you a taste of Losing Daylight through our interactive, immersive pop-up on this Independence holiday. Join us as we walk you back through time, down the aisles of Nigerian film history!"
---
Visit losingdaylight.ng to stay updated. Also, follow them on Instagram for further updates.
---
Read Also