Discover more from The Creatives Note
Curating, documenting and telling the stories of creativity in Africa
Bukola Onwordi: On discovering design while managing a social media page, getting an internship opportunity to kickstart her design career, and moving in-house from the agency — #019
2014 was a really pivotal year for me. I learnt on the job and got to work on a lot of brands creating their marketing materials. It was a really great place to learn, exercise my creativity, and grow
Hi, thank you for joining us for another issue of our interview with African Creatives. In this issue, I spoke with Bukola Onwordi, a senior digital designer at BudgIT Foundation. While managing a social media page, she stumbled into design and went on to intern at a digital marketing agency as a designer where she grew to become a senior art director. After years of working in the agency setting and an opportunity to work in-house, she made the switch to an in-house design role in the civic advocacy space.
If you are interested to know how managing a social media page led her to design, how she made the switch from agency to in-house, what drives and keeps her going, her favourite projects, the people that inspire her, and the people and brands she would love to work with, you should continue reading. You will definitely love and enjoy reading this!
Subscribe to read more stories like this and get them straight into your inbox when we publish them
Tell us about yourself
My name is Bukola Onwordi. I am currently a senior digital designer at BudgIT Foundation, a Civil Society Organisation (CSO) focused on civic advocacy using tech solutions to help laymen understand budgeting and spending by the government. My role entails visual design for projects such as designing reports, infographics, and art-directing campaigns.
Beyond design, I love reading fiction, watching movies, listening to music, eating, and cooking.
How did you get started with design? What led you to design?
After I finished NYSC, I started working with a family friend because I was still trying to figure out what I wanted to do. This family friend had a lot of business so I picked up a lot of things working with him as he would often throw a new task at me. Eventually, he threw me into social media management. This was 2014 and social media management wasn't as big and established as it is now.
When I started managing the social media page, I began to look at the kind of content that the pages of similar businesses posted and I noticed that they posted more than just pictures. They sometimes post graphics to make things more interesting. This realisation led me to find out about Adobe Photoshop.
I started learning Photoshop using tutorials I found online. Looking back now, the designs I made were really poor. But I don't know where I got the confidence from, one day, I updated my LinkedIn profile to say I am a graphic designer. I got my first graphic design opportunity through this LinkedIn update.
The CEO of Wild Fusion, a digital marketing agency in Lagos, reached out to me that they had an opening and asked me to come in for an interview. After the interview, they saw that I didn't really know anything but noticed that I was open to learning so they encouraged me to intern with them.
This was where my creative and design journey started. 2014 was a really pivotal year for me. I learnt on the job and got to work on a lot of brands creating their marketing materials. It was a really great place to learn, exercise my creativity, and grow.
When did you decide to fully pursue a career in design?
I think it was during the interview. I went to the interview with an open mind and just wanted to see what it was like. During the interview, they helped me see what was possible with a career in design. Uzo, who was the creative lead at the time, showed me some of his work which got me excited and made me see the possibilities of a career in design. Also, design was one task I enjoyed doing while I was managing the social media page and the possibility of making money from doing this got me excited.
How has the journey been so far?
It has been interesting. I have enjoyed exploring different design fields and areas. I have enjoyed learning things that piqued my interest. It has been fun.
I went from an intern to a senior art director at Wild Fusion. After that, I was briefly with Deloitte as a design specialist. I also worked with One Wild Card, another marketing agency. It was while I took a break to figure out what next that a colleague told me about the opening at BudgIT and I decided to give it a shot. I joined BudgIT in March 2022.
What would you say about your experience working in-house versus your time at the agency?
One difference is that in the agency, you will work on multiple brands while as an in-house designer, you work on one brand. The agency allows you to flex your creative muscle as you have to work across different brands. In-house can also be challenging because you have to find a way to keep things interesting even though you have a brand identity to maintain. But one thing is that in-house is a bit calmer compared to the chaos in the agency.
I have had to do some interesting work since I got in-house. I have done a lot of infographics which allows me to break down things visually, that is, making a bulk of data into visual chunks that people can easily understand.
How would you describe what you do to a 5-year-old?
I create pictures that help people understand things better.
What is your day-to-day routine?
What does a typical day look like for you?
As a member of the media communication and creative department, I get briefs from the head of the department. It can be to design a report or infographics for a project. Whatever the brief is, it goes through him. So I am either working on a project or getting a brief for the next project.
At BudgIT, we operate a hybrid work arrangement, so I work from home on some days. On days I have to work in the office, I like to get in very early about 2 hours - it is something I started doing recently because it allows me to ease into the day and get a headstart into the day.
On days I work from home, I try to work out before I start work. But I am usually at my desk by 9 a.m. or 10 a.m. I work for a bit before I get some food. After eating, I get back to work and continue working.
When there's a meeting, I get notified and attend. Some weeks, I attend about 3-4 meetings and some weeks are quiet depending on the projects we are working on.
We also have weekly team meetings for the media team that I often attend.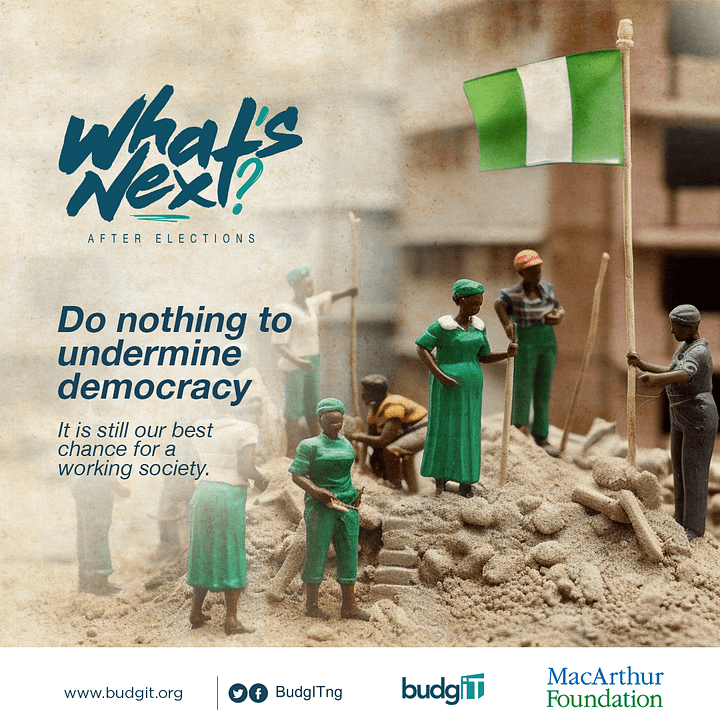 What do you enjoy most about what you do? What is the most satisfying thing about your job?
I enjoy bringing ideas to life. I love the process of going from ideas to creating visuals that we get to see at the end of the day.
What is the best career investment you have made as a creative?
I would say investing in courses, that is, constantly investing in self-development. I am always learning something and looking at the next skill I want to improve on. The latest course I finished is an interaction design course.
---
Related Interview
---
What are some of the challenges you face as a designer?
Getting inspiration sometimes can be challenging. I have noticed that I can spend a day or two just trying to figure out the direction to take. I can be frozen on what to do next for a long time until I figure things out but once I figure that out, the speed of execution is faster. This is usually a problem when I am working on a fast-paced project and there's no time so I won't be able to take as much time as needed and just do the next thing that comes to mind.
How do you usually navigate this challenge?
If nothing is clicking after research and doing things by myself, I talk to people to bounce ideas off them. It usually helps. They may just say something that makes everything click.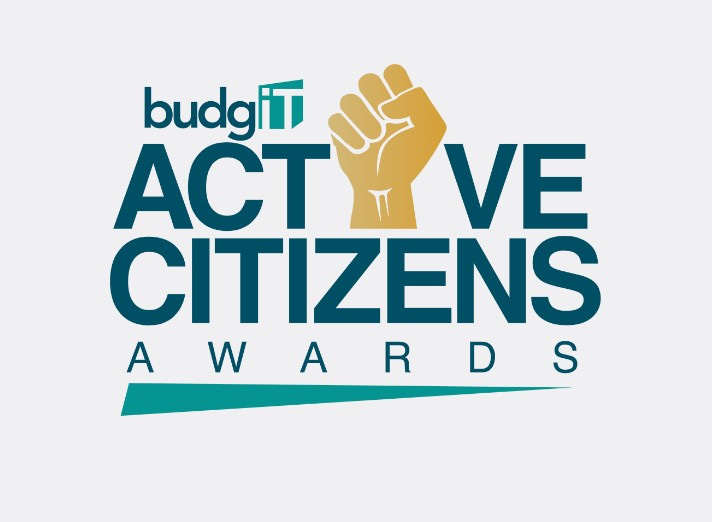 What is your workflow and creative process?
After getting the brief, I do some research on the topic and theme of the brief. If it's an infographic, I try to understand the data shared, that is, I try to know what they are trying to communicate. After that, I research imagery and visual references that I can use to represent the subject matter. Sometimes I use pen and paper to draft what it will look like or I just jump straight to my computer to visually represent the final output.
---
Read Also: 10 African digital products and platforms you should know and use as a creative/creator
---
What part of this process do you enjoy the most?
The execution. Because at this point, I have figured out what I am doing. I have crafted the story and just need to execute and implement the idea.
What are the essential gadgets, tools, and software you use for work daily?
I use a pen and paper, my phone, and my laptop.
For software, I use Adobe Illustrator and Photoshop. I am also exploring AI tools like Midjourney.
How did the Covid-19 pandemic and lockdown impact you and the work you do as a creative?
The lockdown made me realise I love working from home. It was the time a lot of people really started exploring working from home. I was in the agency at the time and it was tricky because we were used to working with people and getting feedback in person unlike now where you work in isolation from home and just jump on calls for meetings.
At first, working from home was a struggle. I would find myself working late into the night and waking up the next day early to continue working. Because it was the pandemic, a lot of our clients were trying to push out content based on the situation which meant more work for us.
But over time, I adjusted and realised that I like working alone because it allowed me to be able to control a lot of things. Now, I even enjoy the hybrid arrangement of going into the office to touch base with the team and spending the rest of the time at home. I like the balance.
How do you handle creative blocks and pushback as a creative?
When it comes to pushback, I try to listen in order to understand what is not working and why. I try to understand their point of view because they may be seeing something I am not seeing. But if from my professional point of view, what they are asking for won't work, I will let them know it's not the best way to go. But first, I always try to listen to understand what they are saying.
As for creative block, I spend a lot of time on Pinterest these days. It's my go-to platform for inspiration. I go online and try to absorb as much as I can and try to see if the direction works or not. I sometimes have to go back to the beginning of the whole process to review what I have done so far in order to find what is not working.
---
Check out: African Flags and Who Designed Them (Part 1)
---
What is the task you don't enjoy doing but you have to do?
That would be mundane and repetitive tasks that do not require creativity like copying and pasting stuff such as tables in a report design that is about 500 pages or more.
What are some of the most exciting projects you have worked on?
The creative direction, content management, and product package design for The Vegan Oils.
Another one is the brand identity design for Ryno Automotives.  
There's also the art direction for Cine21's Eid Campaign.
I handled the creative direction and brand identity design for Budgit's Active Citizen's Awards. I love the way it came out and people's reactions to it.
I also worked on the 2023 FG Budget Review and State of States 2022 report with the BudgIT Team.
What drives you and keeps you motivated to keep creating?
I look at where I am coming from and how far I have come and grown. I often look at the projects I have done to see how much I have grown and this makes me excited about what is possible.
How do you relax and have fun?
I love movies, food, and reading fiction.
Who are the creatives that inspire you?
All the creatives I've had a chance to work with have inspired me in one way or the other. Shout out to Uzo Azuonye, Justice Anaba, and Kayode Olowu.
Who are the creatives you would love to work with or collaborate with?
Julien Tabet and Daniel Schifano.
---
Check out: How To Build Meaningful Relationships As A Creative
---
What brands would you love to work with?
Disney, Google, and the United Nations.
What would you be doing if you were not a designer?
I would probably have furthered my study of Mathematics because it was something that was just easy for me.
What advice do you have for someone who is at the early stage of their creative journey?
Trust the process and keep doing stuff. The best thing you have to show for your work is your portfolio because if you try to apply for anything that's what they will ask for. People want to see what you have done. Keep creating stuff because that is what will get you in the door.
---
Read Also
---
What would you consider success and fulfillment in your career when you look back in the next 20 years?
To have played important roles in the creation of brands and products that are recognised for impacting lives.
Whose story would you love to read about?
Damilola Alade
Do you have anything you would like to plug in or promote?
Check out my portfolio. Also, check out Veganoil (I manage it with my friend Dirichi Phillips who is the founder).
Thank you for sharing with us!!!
---
Connect with Bukola on LinkedIn and Instagram.
---
Thank you for reading and don't forget to like and share the interview.
---
Subscribe for free to read and enjoy more stories like this in your inbox when we publish them.
---
See you next time!!!
Follow us on Twitter, Instagram, and LinkedIn to stay up to date.